Print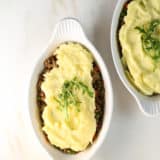 ---
Description
This is an Easy Shepherds Pie that is not complicated. It's made with ground beef, carrots, peas, and fluffy potatoes. It's perfect for leftover roasts, sirloin or beef that you can quickly turn into a cottage pie for a weekday meal. There are so many variations of this dish with different names, methods, and place of origin. The Cumberland pie is a version with either beef or lamb with a layer of breadcrumbs and cheese on top. As you can see you can play around with this dish and really make it your own.
---
1 lb. Ground beef
Note: you can use leftover roast, sirloin, or lamb. Just make sure to dice it into little bits.
Onions 1/2 cup finely chopped
Carrots 1/2 cup finely chopped or grated
Peas 1/2 cup
Beef stock 1 cup
Tomato paste 1 tbsp
Worcestershire 1 tbsp
Russet Potatoes 5 each boiled, peeled to mash
Butter 2 tbsp
Sour Cream 1/2 cup
Salt and Pepper
---
Instructions
Heat a non-stick pan until hot and add the ground beef. Cook until well browned breaking it up as you go add so you don't have any lumps. Season with salt and pepper and continue to cook until half of the liquid is evaporated.
Next, stir in the onions, carrots, and peas. Add in the beef stock and continue to cook for about 10 minutes until the vegetables start to soften. Add the Worcestershire sauce and the tomato purée and sauté for about 15 to 20 minutes, then layer into a baking dish and set aside to cool.
Meanwhile, boil the potatoes in salted water until tender. Drain under cool water and slip the skins off. In a bowl quarter the potatoes and begin to mash them. Add butter, sour cream, and seasonings (plenty of salt or to taste) mix until you have a fluffy consistency.
Heat the oven to 400 degrees and put large spoonfuls of the potatoes on top of the beef mix. Dot the potatoes with a little more butter. Bake for about 30 minutes, let cool for 5 to 8 minutes then serve.
---
Keywords: meals, shepherd's pie, pie
For more check out my other Weekday Meals and Recipes!