---
Description
Frutti di Mare is a popular multi-seafood dish along the cost of Italy. Frutti di Mare literally means "Fruit of the Sea" and can include all types of seafood, including mussels, clams, prawns and other shellfish.
A friend of mine Mike loves to experiment in the kitchen and grew up in a family of Italian restaurateurs including Vaccaro's Trattoria. He recently shared the secret that this dish is incredibly easy to make, and the recipe below is an adaptation of his Frutti di Mare recipe. It turned out so well on our first try, and is now something I look forward to making.
I hope this inspires you to get out of your comfort zone with cuisine and try some things you have never done before.
The fish that I used for this dish includes: clams, live mussels, shrimp, squid (calamari), and fresh scallops. When you are buying these items here are some tips to make sure you are getting the best:
1. Clams & Mussels: These shellfish are sold alive, so make sure the clams and mussels are closed shut when you buy them. When you get them home soak them with water in the sink. You will notice air bubbles at the top, this means they are breathing, which is a good thing! You can also tell a dead shellfish after you've cooked them all. Dead ones do not open after being cooked. Throw away any closed clams or mussels once you spot them.
2. Scallops: Scallops can be wet or dry. The wet scallops are the sandy ones that are hard to brown and also have a gritty taste that I don't like. Always purchase a dry scallop, and look for the label "dry packed."
3. Shrimp: If you are close to an area that offers fresh shrimp buy whatever is local. Being near the Gulf of Mexico, for this recipe I used Jumbo Gulf Shrimp.
4. Squid (Calamari): Calamari is the Italian (also Greek) word for squid. Calamari bodies sold separately from the tentacles are referred to as "steaks." The cleaned body should be a creamy white color and may appear glossy. Its aroma should be clean without a noticeable fish smell.
You will also need fish stock and clam juice. I easily found these both at my local grocery store. For the fish stock I purchased the Fumet de Poisson Gold (packaged in a pouch) that you add water to, and a bottle of clam juice by Bar Harbor. In truth, if you can only find one of the two that's ok – you can use just fish stock or just claim juice, but the combo is better. I used both and split the difference between them, which imparts a really nice flavor to the final dish.
Now all the other ingredients are super basic and easy so no worries there. What you need to focus on here is the technique and timing to pull this together. So here is how you do it:
Spaghetti ai Frutti di Mare
Serves 4 people
---
Fish:
10 medium shrimp, shelled and deveined
8 medium calamari (squid), cleaned and cut into rings
10 clams 10 mussels, scrubbed
1/2 pound scallops
*Note: With this recipe you will start out with the mussels and the clams since they are in the shell. Once the clams and mussels open and you have increased the stock mixed with wine you then add the shrimp, calamari (squid rings), and scallops. They steam and cook within 10 minutes or less.
Seasoning & Pasta:
6 Italian Tomatoes Chopped
1 medium shallot, minced
4 cloves garlic, minced
1 Bunch of minced parsley
Sea Salt
Red pepper flakes
1/4 cup olive oil
1 T. butter
1/2 cup of Claim Juice or Fish Stock
1/2 cup dry white wine
3 Packages of Spaghetti "Number 3" or Spaghettini, whichever one you find
1 bottle of good wine, to enjoy a glass while you cook this dish (hey, this should be fun!)
---
Instructions
1. In a large deep sided pan, heat 1/4 cup of olive oil and 1 tablespoon butter over medium heat. When melted add 4 cloves of minced garlic + minced shallot and saute for approx 1 min. Increase heat to medium/high, then add the mussels and clams (make sure you have discarded any with broken shells or that have already opened).
2. Add ½ cup of the wine, and ½ cup of the fish and clam juice, ¼ cup of chopped parsley, cover with a lid and allow to steam until the mussels and clams open. CAREFULLY shake the pan occasionally. If the liquid level (wine) decreases too rapidly you can add more wine or stock when necessary. Cover with the lid to steam.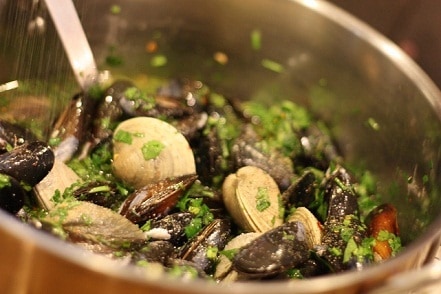 3. While mussels and clams are cooking / steaming, place a stock pot of water on to boil for your pasta. Season the water with a quarter teaspoon of salt once the water starts to boil.
4. Once the mussels and clams open (identified the ones that won't open and throw them out) season with salt and red pepper flakes. Add the chopped tomatoes cook for about 5 more minutes (lid on). If you need to add more stock or wine this is the point to do so.
5. Next add the calamari, shrimp and scallops, 2 cloves of minced garlic and sprinkle a little more parsley. Cook over medium heat stirring as necessary.
6. Cooking time left is approximately 5 to 6 minutes so the shrimp should start to be pink and in a "c" shape, the scallops and calamari should go from translucent white to a solid white.
7. While the Frutti di Mare is cooking, add the pasta to the boiling water and cook until al dente (slightly firm in the middle). Drain pasta and have it ready to transfer to serving bowl.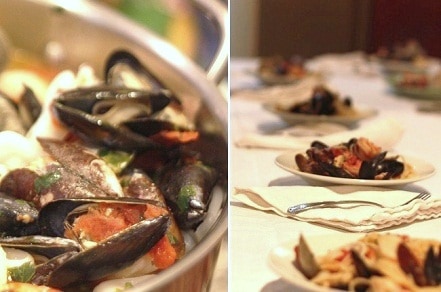 8. Into a VERY large serving bowl, add sauce from the seafood and the pasta. Toss together to combine and mix. Next add the seafood and GENTLY toss again. Serve immediately. Garnish with additional parsley. Now you are ready to serve.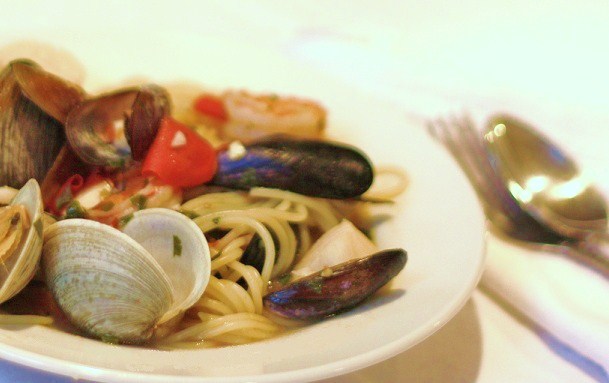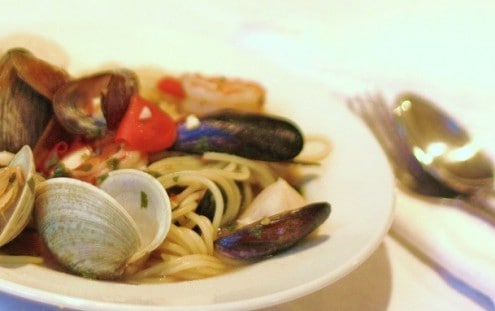 ---
Keywords: Meals, Italian Dishes, Frutti di Mare