---
Description
How to Make Espresso at Home:
All you need is a simple Moka Pot also known as a Macchinetta (literally "small machine").  Espresso is a richer coffee with a thicker consistency and is a base for other coffee drinks.  You can create a Caffe Macchiato, Caffe Latte, and a Cappuccino just with variations of milk. You can add a scoop of vanilla ice cream and have an Affogato. Then there is my favorite the Caffe con Cremina di Zucchero. This is where you blend sugar with a little bit of the espresso to make the cremina.
Coffee Etiquette in Italy:
Espresso & Un Caffè: Espresso is a technical term for the type of coffee grind being used to make the coffee. In Italy you would use the phrase un caffè, which is 'a coffee'. When you are ordering at a bar in Italy just simply say "un caffè, per favore."
Still/Sparkling Water: Depending on the region of Italy when you order un caffè (espresso) it will come with a small glass of still or sparkling water. There are a few theories on why it's served this way, but for me it's about cleansing the pallet and feeling refreshed.
Timing: Typically, you would not order a Cappuccino, Caffe Latte, or Caffe Macchiato after 10:30 a.m. and especially not after a meal. The Italians believe that too much milk on your stomach mid-day or after a late night meal is not good for digestion.
Experience: Drinking coffee is meant to be a social experience. You will find groups of people standing and enjoying un caffè. Typically, to-go cups are not available in Italy, although you might occasionally find them at roadside Autogrill restaurants and in their better-than-average coffee vending machines.
---
How to make Espresso (Un Caffè) and other Popular Coffee Drinks:
What you will need: 
Bialetti Espresso Maker:  Moka Pot
Glass Jar with Lid: This can be a Mason Jar and is an option to make Steamed and Foamed Milk.
Handheld milk frother:  This is another option to make foamed milk if you don't use the glass jar technique.
Cool Water
Espresso Grinds: I like Lavazza
Sugar (for added sweetness or the Cremina)
Cold Milk: Foamed (for Cappuccino) & Steamed (for Caffe Macchiato, Caffe Latte, or Cappuccino)
---
Instructions
How to use a Moka Pot: 
Go here to see how to use the Moka Pot step by step as well as how to make the cremina for the Caffe con Cremina di Zucchero.
How to make Steamed & Foamed milk:
Option 1: On the stovetop heat milk over medium low until steaming. Whisk briskly for 60 seconds and then pour over coffee.
Option 2: Half-fill a glass jar (mason jar) with milk. Put the lid on the jar and shake vigorously for about 45 seconds until the milk becomes frothy. Remove the lid and place the uncovered glass jar in the microwave for 30 to 45 seconds. The steamed milk will collect at the bottom and the foamed milk remains at the top. Use a spoon to hold the foam back as you pour the hot milk into your Caffe Macchiato, Caffe Latte, or Cappuccino.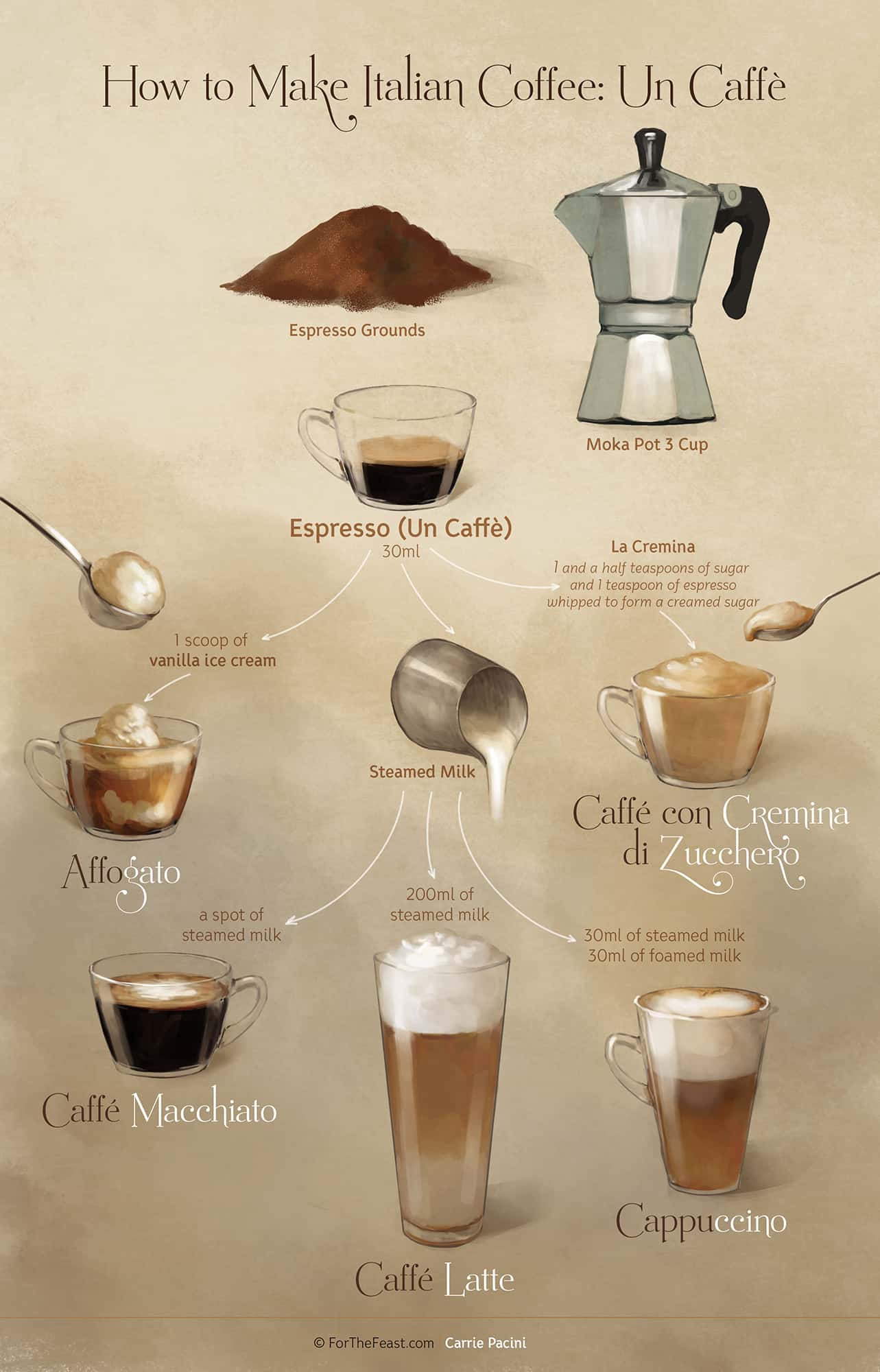 ---
Keywords: How to Guides, Desserts, Coffee, Espresso, Italian Inspired