Print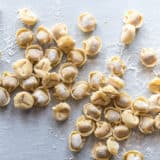 How to Make Tortellini
Author:

Category:

Italian Inspired
---
Description
Emilia-Romagna is considered the Gastronomic Capital of Italy.
In this region you will find Prosciutto, Parmigiano Cheese, Balsamico di Modena, Lasagne, the famous Bolognese sauce, Ferrari, Maserati, and so much more. The area is a food lovers dream, and is where I learned how to make Tortellini, which happens to be one of the regions signature and historical dishes, especially during Christmas.
Tortellini has history dating back to the 1300's. There are many myths about how it came to be, the more fanciful of which include the goddess Venus herself, who purportedly had the perfect navel which is what the Tortellini is modeled after. There is a long history of dispute between Bologna and Modena on who created Tortellini. It's believed that the origins are from the the Po Valley. This area has an abundance of pork and Parmigiano cheese which are two of the main ingredients for the filling.
There is also Tortelloni, which is similar to Tortellini with just a few tweaks. The difference between Tortellini and Tortelloni is the filling and size. Tortellini has a meat filling, while Tortelloni has a cheese filling and is slightly larger. You generally assemble them both the same, just with a different filling and to a slightly different scale.
How to Make Tortellini and Tortelloni
The first thing we need to do is make the dough. Here's how to make homemade pasta dough.
---
Tortellini Filling: 
2/3 cup cooked ground pork
2/3 cup cooked ground beef
1/2 cup  grated Parmigiano Reggiano cheese
1 Large Egg
1/2 tsp grated nutmeg
Tortelloni Filling: 
1 cup (250g) fresh Ricotta
1 cup (250g) Grated Parmigiano Reggiano Cheese
1/2 teaspoon Nutmeg
1 tablespoon minced fresh Parsley
---
Instructions
Preparation: 
1. In a food processor mix all the ingredients for whichever filling you decide to do the cheese filling for the Tortelloni or the meat filling for Tortellini.
2. Roll out your pasta dough and cut into wide squares.
3. Spoon a little bit of the filling in the middle of the pasta square.

4. Fold it into a triangle shape and close the edges.


5. Pinch the corners of the triangle down, see picture below.

6. Wrap it around your finger and press the two angles one upon the other.
If for some reason the angles don't close up you can use a drop of water.

7. Cook your pasta in boiling salted water. After about 30-40 seconds, the pasta will rise to the surface. Taste and strain.  The pasta should be 'al dente' – firm, yet tender.
Traditionally you serve tortellini in a meat broth but you can also do a few more things:
– Toss with melted butter and fresh sage.
– Serve it with a Bolognese sauce or a tomato basil sauce.
– Always remember to top it off with grated Parmigiano Reggiano cheese!
I hope this  has inspired you to learn how to make Tortellini or Tortelloni from scratch and share a tradition with your friends and family.
---
Keywords: How to Guides, Italian Dishes, Tortellini
For more check out my other Italian Dishes!