The Humming Bird Cake is one of the most requested and treasured cakes of the South.
There are a few theories on how the cake received it's name.
One theory states it's the sound people make when they take a bite as they hum happily away.
The other theory has to do with the sweetness of the cake like nectar from a flower that a humming birds treasures.
I personally love this cake. I think it will make you and your guest hum in delight.
Pan Notes: I like to use 3 round pans. Bottom pan was a 9 inch round and the 2 top pans where 8.5 inch round. I used the 9 inch round as the base of the cake.
Icing Notes: When making the icing you will need to adjust depending on where you are. If you are in a dryer climate you will need more butter. If you are in a humid climate like me then you will need less butter in your icing.
Assembly Notes: If you want to stabilize your cake because you might be taking it somewhere you can take straws and cut them to the appropriate size and stick it in the center through the 3 layers. This will secure the cake. Since I wasn't going anywhere I didn't do this at all and the cake was fine. I just wanted to give you that option.
Icing the Cake: Cut strips of parchment and tuck around the base of the cake so that when you apply the icing it won't leave a mess.
Print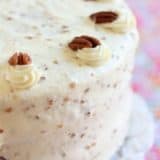 Humming Bird Cake Recipe
Author:

Prep Time:

45

Cook Time:

30

Total Time:

1 hour 15 minutes
---
Cake Batter
3 Cups

of Sifted All Purpose Flour (I like to use Farino Tipo

00

– An Italian Flour, note: you can also use Cake Flour)

2 Cups

of Sugar

3/4 Cup

of Olive Oil

1 Cup

finely chopped pecans

4

Egg Whites (beat until stiff peaks)

4

Egg Yolks

2

very ripe large bananas, mashed

1

(8-ounce) can crushed pineapple, with juice

1 teaspoon

pure vanilla extract

1 teaspoon

ground cinnamon

1 teaspoon

of baking soda
Cake Icing
1

pound (1 box) confectioners' sugar

8 ounces

cream cheese, room temperature

4 Tablespoons

(

1/2

stick) unsalted butter, softened

1 teaspoon

pure vanilla extract

1 Tablespoon

milk, or more if needed

1/2 Cup

finely chopped pecans
---
Instructions
Steps to Prepare and Bake
Pre-heat oven to 350 degrees. If your oven browns quickly then take it down 15 to 20 degrees.
Cream the mashed bananas with sugar and add vanilla.
Next add 4 separated egg yolks + pineapple. Mix and beat until fluffy.
In a separate bowl combine dry ingredients: Sifted flour, cinnamon and the baking soda.
Add the dry ingredients to the mixture a little at a time alternating with the 3/4 cup of olive oil.
Next mix in pecans.
In another bowl, beat the egg whites until you have stiff peaks.
With a spatula, gently fold your egg whites into the batter by making the figure 8 pattern.
Spoon the batter into your three pans and make them as even as you can.
Bake until light brown, which should be about 30 minutes (use a toothpick in the center and make sure no batter is on the stick).
When the cake layers are finished baking let them cool before you take them out of the pans.
Once the layers are cool, place them on parchment paper and use a brush to dust off the crumbs (easier to ice).
Next Cream all of the ingredients together for the icing in this order: Sugar, Cream Cheese, Butter, Vanilla, and 1 tablespoon Milk. If needed add a teaspoon of milk at a time to get to a consistency that you like.
After the icing is mixed start to assemble the cake by taking one of the layers of cake and making it your base. Stick strips of parchment paper around the bottom of the cake. Ice the top of it and add the next layer of cake and ice the top of it adding your final layer of cake.
Now start to ice the sides and the top of the cake until covered. Sprinkle with finely chopped pecans.
Refrigerate the cake until you are going to slice and serve!
---
---