Authentic Italian Cream Cake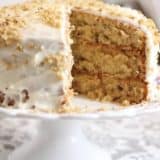 Scale
Ingredients
Cake Batter
2 cup

s of sifted all purpose flour (I like to use Farino Tipo

00

– An Italian Flour, note: you can also use Cake Flour)

2 cup

s of sugar

1

stick of butter unsalted (113g)

1/2 cup

of dry shredded coconut

1 cup

of finely chopped walnuts

5

egg whites (beat until stiff peaks)

5

egg yolks

1/2 cup

of olive oil

1 cup

of buttermilk

1 1/2 teaspoon

of vanilla extract

1 teaspoon

of baking soda
Cake Icing
8 oz

of cream cheese

1/2

stick of butter for humid climates OR 1. to 1.5 sticks in dryer climates (

1

stick is 113g)

1 teaspoon

of buttermilk

1 teaspoon

of vanilla extract

1 teaspoon

of creme de cacao (optional but I like it, so if you can't find it no worries)

8 oz

of powdered sugar

1 teaspoon

of the white chocolate extract (again optional, if you can't find it then double up on the vanilla extract
*Note for Dryer Climates use 1 to 1.5 sticks of butter
Instructions
Pre-heat oven to 350 degrees. If your oven browns quickly then take it down 15 to 20 degrees. Grease and flour 3 round cake pans.
Cream (mix) butter with sugar and add vanilla
Next add 5 separated egg yolks and 1/2 cup of olive oil – mix and beat until fluffy.
In a separate bowl combine dry ingredients: Sifted flour and the baking soda.
Add the dry ingredients to the mixture a little at a time alternating with the buttermilk (about 1/4 cup at a time).
Next, mix in walnuts and coconut.
In another bowl beat the egg whites until you have stiff peaks.
With a spatula, gently fold the egg whites into the batter by making the figure 8 pattern.
Spoon the batter into your 3 pans and make them as even as you can.
Bake until light brown for 30 to 60 minutes (use a toothpick in the center and make sure no batter is on the stick).
Once the cakes are done pull them out and let them cool.
After they cool, place the cakes on parchment and use a brush to dust off the crumbs (easier to ice).
Next Cream all of the ingredients together for the icing in this order: Cream Cheese, Butter, Buttermilk, Vanilla extract, Creme de Cacao, and Powdered Sugar. Note: If your not using Creme de Cacao just double up on the Vanilla extract.
After the icing is mixed start to assemble the cake by taking one of the layers of cake and making it your base. Stick strips of parchment paper around the bottom of the cake. Ice the top of it and add the next layer of cake and ice the top of it adding your final layer of cake.
Now start to ice the sides and the top of the cake until covered. Use chopped walnuts or coconut to decorate the sides.
Refrigerate the cake until you are going to slice and serve!