Print

Mache, Figs, Pistachio Crusted Goat Cheese
Author:

Category:

Italian Inpsired
---
Description
I've been playing around a bit with Mache, also known as lamb's lettuce. I like the nutty flavor and the soft texture it has. I tossed it with pistachios, goat cheese, port poached figs and grilled pears with a  Balsamic Vinaigrette. This made a very nice salad with layers of texture and flavor.
Servings 4
---
3 bags of Mache
2 Eggs
8 dried figs
2 green pears (slice thin for the grill, even though I didn't for the picture)
1/2 cup of pistachios
1/2 cup of panko breadcrumbs
1 roll of goat cheese
2 cups of port
Your favorite Balsamic Vinaigrette or Champagne Vinaigrette
Salt and pepper to taste
---
Instructions
1. Poach the figs:
– In a small pot pour in the port and bring to a light boil. Next add the figs to get them to plump up and wake up.
– Slice the fig into fours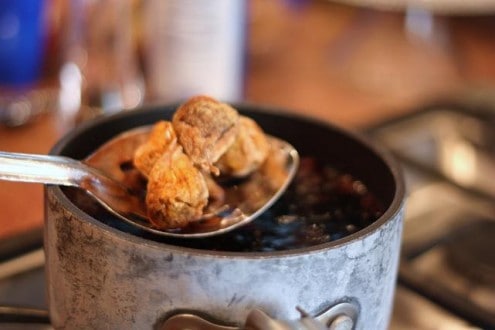 2. Make the pistachio crusted goat cheese
– Roll the goat cheese into balls and set aside on wax paper
– Grind the pistachios and mix with the breadcrumbs
– Heat up canola oil in a pan
– Add the eggs to a bowl and mix together
– Take the goat cheese balls and dip in the egg and roll in the panko pistachio mixture
– Once the oil is hot quickly and lightly brown on all sides then set aside on a plate
3. Grill the pears
– Cut the pears in thin slices
– Place them on a grill until they have grill marks
– Take them off and set aside for assembly
4. Toss Salad
– Mix the Mache and the Balsamic Vinaigrette or Champagne Vinaigrette to your liking
5. How to plate it:
– First add plate your Mache mix on the plate
– Add a couple of slices of the poached figs
– Arrange the goat cheese on top of the salad
– Add the grilled pear slices to the side
– Now you are ready to serve!
---
Keywords: Meals, Italian Dishes, Crusted Goat Cheese, Cheese, Goat Cheese