Print


Baking Blackberry Tarts
Author:

Category:

Desserts
---
Description
Blackberry tarts are perfect for the summer.There are always tons of blackberries in the stores so I decided to make mini blackberry tarts.
Tip: What's great about having a good crust recipes is that you can get very creative and use any type of berry you like.
They are incredibly tasty and adorable to look at. I used an Italian pie crust recipe, fruit preserves, and blackberries with a touch of sugar. That's it!
These mini blackberry tarts are a fun dessert to make with friends or even children. Let them fill in their own preserves and berries.
Here's what you will need to do to make your own blackberry tarts:
NOTE: I used 6 mini pie tins
Use 1 Pie Crust:  Italian Pie Crust Pasta Frolla  or a French Pie Crust Pate Sucree
---
Scale
Ingredients
1 Jar of fruit preserve ( you won't use the entire jar)
I like to use a 4 fruit combination from St. Dalfour
2 containers of blackberries
Sugar to sprinkle on top
---
Instructions
1. Butter the bottom and edges of all your tiny pie pans so the crust doesn't stick
2. After you pull the dough out of the refrigerator you will pull off enough dough for each tart pan and roll it into a disk
3. Flatten the disk of dough and spread into the tart pan making your edges even
4. Next spoon a shallow layer of preserve into the tiny pans and spread around the bottom
5. Now add 1 layer of blackberries onto of the jam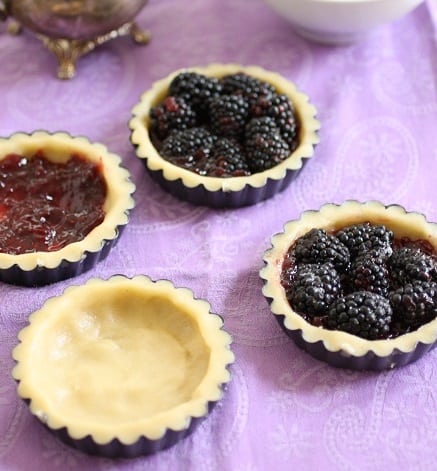 6. Sprinkle with sugar and put them on a baking tray
7. Once all tart pans are completed bake them in the oven at 375 degrees for about 20 minutes or until the crust turns a nice light golden color
8. Take them out and let them cool before you serve about 20 minutes
These little  blackberry tarts are perfect with ice cream or served alone with tea and coffee!
---
Keywords: Desserts, Tarts, Italian Dishes, Blackberry Tart, Blackberry