---
For Meatballs:
1/2 Pound of beef
1/2 Pound of pork
1/2 Cup of chopped onion
1/2 Cup of chopped celery
1/4 Cup of chopped fresh parsley
2 Teaspoons of minced garlic
1 Teaspoon of Fine sea salt
3 Tablespoons of granted Toscana Romana Cheese or you can use Parmigiano
1/2 Cup of panko breadcrumbs
1 Egg
For Red Sauce:
1 Small White Onion Finely Chopped
Salt & Pepper to taste
3 Chicken Bouillon Cubes
2 each 28 ounce Cans of Chefs Cut or chopped Tomatoes (San Marzano Tomatoes)
1/2 cup of chopped fresh parsley
---
Instructions
Meatball Preparation:
1. In a bowl mix beef, pork, onion, celery, parsley, garlic, sea salt, cheese, panko breadcrumbs, and 1 egg.
2. Form the meat into balls and set aside on parchment paper
3. Add olive oil to the pan and sauté browning the meatballs on both sides in batches (while you are doing this start the red sauce recipe below).
4. Place the meatballs on paper towels to drain as you continue to work with each batch
6. Next add the meatballs to your sauce to let them finish cooking.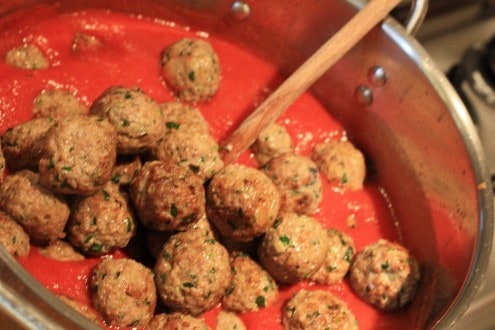 Red Sauce Preparation:
5. Add the onions and sauté over moderate heat until they are translucent.
2. Add 2 Cans of Tomatoes and mix together.
3. Add Chicken Bouillon.
4. Bring the sauce to a boil.
5. Add meatballs and incorporate them in the sauce.
6. Reduce heat to a simmer, cover for about 45 minutes, stirring  as needed.
---
Notes
Before serving  adjust salt and pepper to your taste. Toss with your preferred pasta.
Keywords: Meals, Italian Dishes, Meatballs, Pasta