Rosemary Orange Cake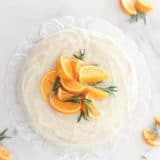 Author:
Category:

Desserts
Scale
Ingredients
Sugar 2 1/2 cups
Fresh Rosemary 2 Tablespoons chopped
Butter 1 1/2 cups soften
Eggs 5 Med size
Buttermilk 1 1/4 cup
Sour Cream 1 cup (8 oz)
Vanilla Extract 1 Tablespoon
All-purpose flour 3 1/2 cups
Baking powder 1 Tablespoon
Baking soda 1/2 teaspoon
Salt 1/4 teaspoon
Garnish: Mandarin Orange Sections and Rosemary
Orange Cream-Cheese Frosting
Soften Cream Cheese 2 (8-ounce) packages
Soften Butter 1/2 cup
Orange Rind 1 Tablespoon
Confectioners Sugar 4 cups
Grand Marnier 1 Tablespoon (optional) or juice from mandarin orange
Instructions
Preheat to 350 degrees
Grease and flour 3 round cake pans and set aside or nonstick baking spray with flour. Next combine sugar, rosemary, and butter in a stand mixer and beat for about 5 minutes until fluffy. Next add the eggs in 1 at a time mixing after each egg is added. Add in the vanilla extract.
In a separate bowl combine flour, baking soda, baking powder and salt. Add the dry ingredients to the mixture a little at a time alternating with the buttermilk (about 1/4 cup at a time). Stir in sour cream.
Spoon the batter into your 3 pans and make them as even as you can. Bake for about 20 to 25 minutes until a toothpick inserted in the center comes out clean. Once the cakes are done pull them out and let them cool for about 10 minutes and then remove from pans and let them cool completely on a wire rack. Brush off any crumbs to prep for icing.
Next Cream all of the ingredients together for the icing in this order: Cream Cheese, Butter,  and Orange Rind until creamy. Add confectioners' sugar 1 cup at a time until smooth. Optional, add the Grand Marnier at the last.
Assemble the cake and ice the layers. Garnish with sliced mandarin oranges and rosemary. Refrigerate until you are going to slice and serve!
Notes
Pan Notes: I used 3 round pans. The bottom pan was a 9 inch round and the top 2 pans were 8.5 inch round. I used the 9 inch round as the base of the cake.
Icing the Cake: Assemble your layers on a cake stand or plate. Cut strips of parchment paper and place them around the base of the cake. This helps to keep the icing off of the cake stand or plate. When you are done icing the cake, remove the parchment and you will have a nice clean finish at the bottom.
Keywords: dessert, rosemary, orange cake, cake