Print

Giulia's Tiny Trifles
Author:

Category:

Desserts
---
Description
This is an easy dessert that my daughter Giulia and I make. She loves to serve this on a silver tray.
You can get creative and use different glasses. In the first picture we used tiny glasses with a stem in another picture we used short water glasses.
Servings 6
---
1 (8 ounce) Container of vanilla pudding
1 (8 ounce) Container whip cream
1 Container of angle food or sponge cake already baked (most of your grocery stores will have this in the baking department) cut into 1-inch cubes or rounds
1 Cup sliced fresh strawberries
1 Cup fresh blueberries or raspberries
1 Bar of chocolate to shave for the topping
6 Short beverage glasses to layer everything in
---
Instructions
1. In each individual glass layer the cake, pudding, and strawberries, then start again with the cake, pudding and the berries. Repeat this until you are at the top of the glass alternating the strawberries other berries.



2. Once you are done layering and have reached the top of the glass put a layer of the whip cream on top


3. Next, grate the chocolate over the top of the whip cream.
4. Cover and refrigerate for 2 hours and then you are ready to serve.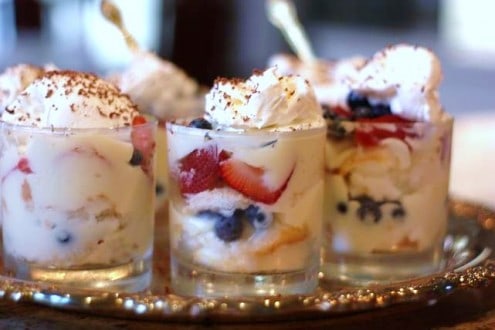 ---
Keywords: Desserts, Trifles