Print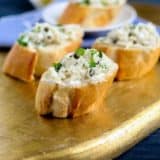 Crab Crostini Appetizer with Lemon and Capers
Author:

Prep Time:

20

Cook Time:

10

Total Time:

30 minutes

Category:

Italian Inspired
---
Description
This Crab Crostini Appetizer is flavorful, fresh and easy to pull together.
This recipe is from one of our recent trips to the Tuscany region of Italy. Along our journey we visited Livorno, a busy seaside town.
Livorno is a port city on the Ligurian Sea located on the west coast of Tuscany. It serves as the primary sea port for Florence, Pisa and other well-known Tuscan cities. And as a fishing village at heart, it also has some of the best seafood I've ever tasted.
The seafood markets in Livorno are filled with both staples and delicacies, all of which are incredibly fresh.  At lunch we had a feast of small plates, but one dish that stood out was this simple crab crostini appetizer tossed with lemon and capers.
Crostini literally means "little toast" in Italian. It's an Italian appetizer that consists of a small slice of grilled or toasted bread (traditionally a baguette) with toppings. The variety of crostini are endless which makes them fun and easy to create.
I think this Crab Crostini Appetizer is perfect for gatherings. It's easy to prepare (and consume) with a glass of wine in hand.
Whenever I am entertaining most people like to venture into my kitchen. It's the heart of activity in most homes and ours is no different.
I try to make sure that whatever I am doing last minute is relatively simple so I don't ignore my guests. This crab crostini appetizer gives me the freedom to hold a conversation while getting it ready.
You can prepare the crab mixture midday and toast up the bread just prior to serving.
I've included a few tips when shopping for crab meat. There are many options and a vocabulary to understand between, Colossal, Jumbo, Backfin, Special Meat and Claw Meat + Pasteurized vs. Fresh.
Notes on Fresh vs Pasteurized:
Fresh crabmeat is great for crab cakes or other dishes where the texture and flavor of the crab is the main ingredient. You can purchase it in 1-pound containers.
Pasteurized crabmeat is great for dips and casseroles. It can cost significantly less than fresh, and it has a long shelf life.
Styles of Crab Meat:
Colossal and Jumbo lump is the highest quality crabmeat and it is delicious. Colossal simply comes from larger crabs than jumbo lump. Colossal and jumbo lump meat are best used in cocktail presentations or in sautés.
Note:  I used Jumbo Fresh Crab Meat for these Crab Crostini Appetizer.
Backfin is a blend of broken pieces of jumbo lump and special grade crab meat. It is perfect for use in crab cakes, dips, salads, and casseroles. Backfin is perfect for stuffing fish, chicken, vegetables, or seafood.
Special Meat is shreds and small flakes of white meat. It is generally used for all dishes in which white crab meat is used.
Claw Meat is the least expensive and hardly contains any lump meat. Claw meat darker with a stronger flavor that makes it perfect for dishes with heavy sauces, dips and soups so the flavor can hold and come through.
---
2

large lemons juiced

1/4 cup

of roasted sunflower oil + extra for drizzling (you can use olive as well)

1/4 cup

of capers

2 Tablespoons

of flat-leaf parsley (Italian parsley)
Fine sea salt
Ground Pepper

1

pound of jumbo lump crab meat, picked over for any shells

1

baguette
---
Instructions
Preheat oven to 350F 180c
In a medium bowl combine lemon juice, sunflower oil, parsley, capers + salt and pepper to your taste, and whisk together.
Add the crab and slowly and mix together until combined.
Cover and chill in the refrigerator for about 30 to 45 minutes.
Next, slice the baguette to form 12 pieces.
Lightly brush both slices of the bread with oil and arrange on a baking sheet.
Sprinkle a little salt and pepper on the bread and bake until lightly toasted (about 10 minutes).
Once the bread is toasted let it cool on a wire rack or pan.
Assemble by topping the crab meat mixture onto each piece of crostini and drizzle with a little sunflower oil (or olive).
Serve on a tray and enjoy!
---
---
Keywords: Appetizer, Crab Crostini, Crostini