Print

Galette: Fig and Almond
Author:

Category:

Desserts
---
Description
Galette is a French word used to describe a free-form tart.
I think Galette's are rustic and charming and quite fun to make. You can get really creative with them and not worry about molding edges to a dish.
All you have to do is fold over your dough to make the edges. You can create designs by folding them in angles or a simple pinch to make a creative edge.
You can create savory or sweet galettes. I used a Pate Sucree which is a French Pastry Dough with Lemon Zest and Sugar. Then I sliced the figs and lightly tossed them with an almond and sugar mixture to absorb any of the liquid from the figs while they baked.
Fig and Almond Galette
Preheat oven to 350 degress
Makes 4 little Galettes
---
1 1/2 cups of all-purpose flour (sifted)
Pinch of salt
7 tbsp of chilled butter
1/4 cup of granulated sugar
1 egg yolk, lightly beaten
1–2 tbsp of ice water
1 tbsp grated lemon zest
1 tbsp of vanilla extract
1. In a large mixing bowl sift the flour
2. Cut the chilled butter into pieces and add to the bowl (use a mixer or if you don't have one you can simply use a fork)
3. Mix the butter into the mixture until you have a fine crumblike mixture
4. Mix the egg yolk with the water until blended and drizzle over the mixture
5. Add the sugar, lemon zest, and vanilla
6. Continue to stir until the mixture starts to stick together in little lumps
7. Gently press the small lumps of the pastry together using the heel of your hand forming a rough ball
8. Knead gently for a second until smooth and cover with plastic wrap
9. Chill for at least 1 hour if not overnight
---
Instructions
10 Sliced Fresh Figs
20 Almonds blended like a flour ( I used a food processor) add 1 teaspoon of sugar and mix together
1/2 cup of Fig Jam
Assemble
1. Make 4 round discs out of the pastry and flatten them out on a lightly floured surface with your rolling pin or simply just use your hands which I think works better
2. Slice the figs and lightly toss with the almond and sugar mixture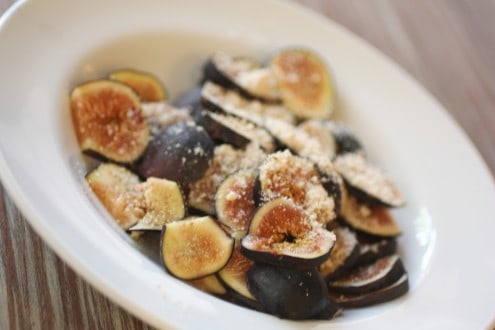 3. Add a thin layer of fig jam in the center of the pastry dough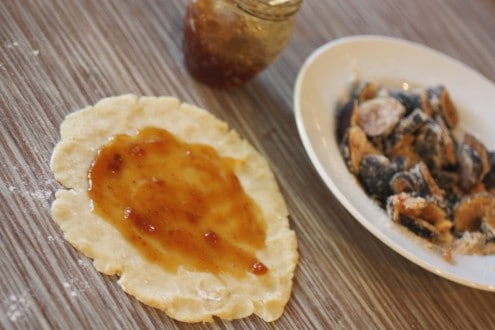 4. Layer the figs in the center over the jam

5. Fold the edges in an angle to create a decorative edge

6. On a baking sheet lined with parchment paper place your galettes and bake for 20 to 25 minutes until you have a golden crust
7. Let them cool for about 5 minutes before serving!
---
Keywords: French Dishes, Desserts, Fig and Almond