Never in a million years did I dream I could replicate my mother's Italian Cream Cake. It's 3 layers tall and made from scratch. It's also the best cake I've ever tasted.
My mother came over and step by step took me through the process of making her treasured cake. She basically let me do everything and just looked over my shoulder. I promise this is by far the best recipe for an Italian Cream Cake you are going to find.
I know you will enjoy it as much as our family and that's why we are both sharing it with you.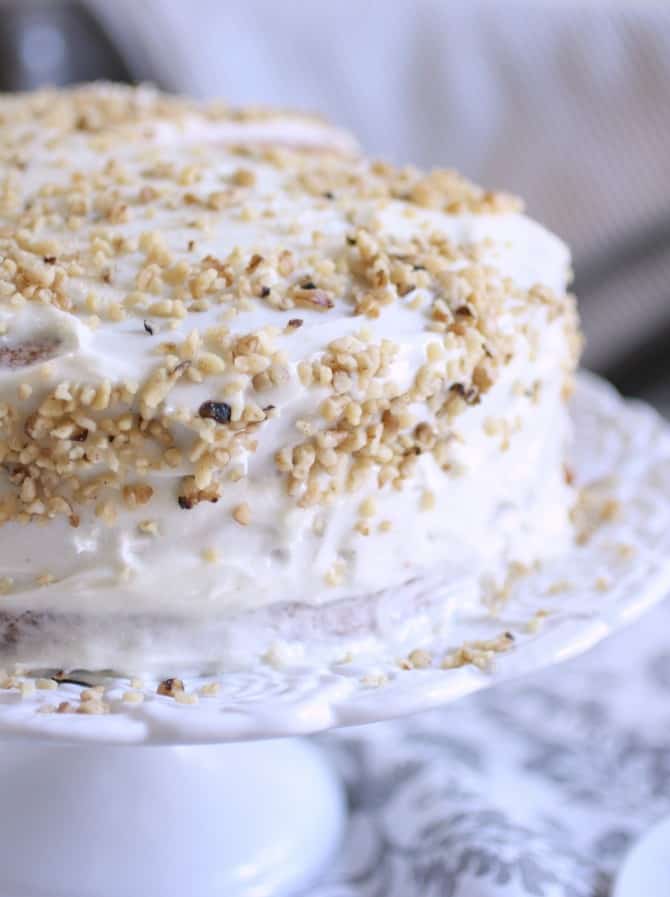 Pan Notes: I used 3 round pans. The bottom pan was a 9 inch round and the top 2 pans were 8.5 inch round. I used the 9 inch round as the base of the cake.
Icing Notes: If you live in a dryer climate you will need more butter. There's a note about this in the ingredient list but I wanted you to know why. If you are in a humid climate like me then you will need less butter in your icing.
Assembly Notes: If you need to stabilize your cake to transport you can use straws. Cut them to the appropriate size and stick them in the center. This will secure the cake.
Icing the Cake: Assemble your layers on a cake stand or plate. Cut strips of parchment paper and place them around the base of the cake. This helps to keep the icing off of the cake stand or plate. When you are done icing the cake, remove the parchment and you will have a nice clean finish at the bottom.
Authentic Italian Cream Cake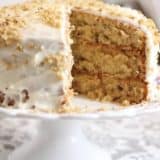 Scale
Ingredients
Cake Batter
2 cups

of sifted all purpose flour (I like to use Farino Tipo

00

– An Italian Flour, note: you can also use Cake Flour)

2 cups

of sugar

1

stick of butter unsalted (

113g

)

1/2 cup

of dry shredded coconut

1 cup

of finely chopped walnuts

5

egg whites (beat until stiff peaks)

5

egg yolks

1/2 cup

of olive oil

1 cup

of buttermilk

1 1/2 teaspoon

of vanilla extract

1 teaspoon

of baking soda
Cake Icing
8 oz

of cream cheese

1/2

stick of butter for humid climates OR 1. to 1.5 sticks in dryer climates (1 stick is

113g

)

1 teaspoon

of buttermilk

1 teaspoon

of vanilla extract

1 teaspoon

of creme de cacao (optional but I like it, so if you can't find it no worries)

8 oz

of powdered sugar

1 teaspoon

of the white chocolate extract (again optional, if you can't find it then double up on the vanilla extract
*Note for Dryer Climates use 1 to 1.5 sticks of butter
Instructions
Pre-heat oven to 350 degrees. If your oven browns quickly then take it down 15 to 20 degrees. Grease and flour 3 round cake pans.
Cream (mix) butter with sugar and add vanilla
Next add 5 separated egg yolks and 1/2 cup of olive oil – mix and beat until fluffy.
In a separate bowl combine dry ingredients: Sifted flour and the baking soda.
Add the dry ingredients to the mixture a little at a time alternating with the buttermilk (about 1/4 cup at a time).
Next, mix in walnuts and coconut.
In another bowl beat the egg whites until you have stiff peaks.
With a spatula, gently fold the egg whites into the batter by making the figure 8 pattern.
Spoon the batter into your 3 pans and make them as even as you can.
Bake until light brown for 30 to 60 minutes (use a toothpick in the center and make sure no batter is on the stick).
Once the cakes are done pull them out and let them cool.
After they cool, place the cakes on parchment and use a brush to dust off the crumbs (easier to ice).
Next Cream all of the ingredients together for the icing in this order: Cream Cheese, Butter, Buttermilk, Vanilla extract, Creme de Cacao, and Powdered Sugar. Note: If your not using Creme de Cacao just double up on the Vanilla extract.
After the icing is mixed start to assemble the cake by taking one of the layers of cake and making it your base. Stick strips of parchment paper around the bottom of the cake. Ice the top of it and add the next layer of cake and ice the top of it adding your final layer of cake.
Now start to ice the sides and the top of the cake until covered. Use chopped walnuts or coconut to decorate the sides.
Refrigerate the cake until you are going to slice and serve!