This Salted Caramel Bundt Cake is divine. The combination of salt and caramel is incredibly tasty.
I think using a bundt cake mold makes this recipe manageable, especially with the caramel glaze. I've tried this as a layer cake but I prefer it as a bundt.
I also like to serve this cake warm. I reserve some of the caramel to warm up and drip over the cake before serving.
Making the caramel was a bit intimidating for me but it was relatively easy! The trick here is to not burn the sugar. The rest is super easy and takes NO time at all.
NOTE: I didn't use a candy thermometer; I just watched the color and reactions that are mentioned below when making it.
Print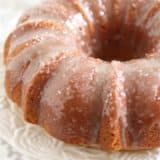 Salted Caramel Bundt Cake
Author:

Category:

Desserts
---
Cake Ingredients
3 cups

all-purpose flour

1 1/4 cup

granulated sugar

1/2 teaspoon

baking powder

1/2 teaspoon

baking soda

1/2 teaspoon

salt

3 tsp

vanilla extract

1 cup

Crème fraîche

2

sticks unsalted butter, softened

4

large eggs, room temperature
Caramel Glaze
1 cup

sugar

3/4 cup

heavy cream

1/2

stick of butter
Sea salt (I used fleur de sel)
---
Instructions
Preparation for Cake
Preheat oven to 350 degrees.
Grease and lightly flour the inside of a bundt pan.
Mix flour, baking powder, baking soda and salt in a large bowl and set aside.
Using a mixer, beat the butter until creamy.
Add the sugar and continue to mix until it becomes light and pale.
Next add the eggs one at a time, then the vanilla extract and Crème fraîche 1/4 cup at a time until it is all mixed in.
Next add your flour mixture in small amounts allowing each bit to mix in completely before you add more.
After all the ingredients are mixed in, spoon the batter with a spatula into the bundt mold.
Bake for 50 minutes or until a toothpick inserted in the center comes out clean.
Once the cake is done, let it cool for about 12 minutes before inverting it onto another rack. Let it cool completely for about an hour.
Preparation for Caramel Glaze
NOTE: I Updated this recipe with 2 variations of the Caramel Glaze. Each recipe worked beautifully to turn out decadent caramel, so I wanted to share both with you.
If you are prone to seeing sugar rocks start to form then try adding the butter and the sugar at the same time while whisking as they dissolve and blend together. See Version A below.
Version A
Add the butter and sugar together and melt them at the same time while whisking (Medium Heat) .
As the butter and sugar start to dissolve add the cream and continue to whisk (Medium to High Heat)
Once it starts to froth and bubble, take it off the heat while still whisking. Continue in Version B below with step 5.
Version B
In a saucepan add the sugar and whisk over a medium heat allowing the sugar to melt.
Once it starts to turn an amber color add the butter and whisk at a fast pace.
When all of the butter is completely melted and blended with the sugar you can remove it from the heat.
Next add the cream while you continue to whisk until the mixture is in a cream caramel glaze form.
Pour this glaze into a glass container or a bowl and set aside.
Once the cake has cooled you can pour the caramel over the top, covering it in a decorative fashion.
Sprinkle the top with sea salt and serve.
---
Keywords: Desserts, Cakes, Salted Caramel Bundt Cake